A common problem for people who have not edited a picture before is how to do it.
If you have not been shown or struggle with computers then its a task you will find tricky. Sure you will get there in the end but a little help can often go a long way.
I have put together a picture illustrated, easy way of editing pictures for the forum.
There are many many ways of doing it and I have tried lots with very good results.
If it helps anyone then great
This is some free software that is easy to use.
http://www.photoscape.org/ps/main/download.php
There are lots of others out there but this is what I use now, its quick, easy, free, and easy to use.
First of all take a picture.
I took a photo of one of my favourite coins. A Roman silver Lucilla.
My camera has macro function as most digital cameras do these days.
A pretty decent picture as it is, but we want a better close up view to really see it well and show it off the best we can
Little tip here. Take more than one picture.
What you want is a nice focused picture (most important), when you look at them on your computer pick the best one.
For ID'ing a nice close up makes it a lot easier for the experts to get stuck in. Not included any size comparison or grid on my photo but
if you are looking for an ID then its essential in a lot of cases
.
OK I have my picture.
Open up editing software.
Select picture for editing.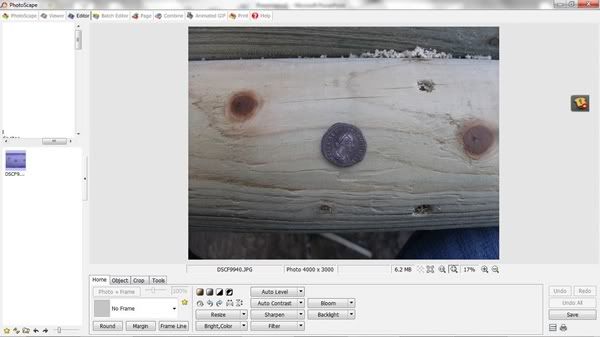 Next step is cropping.
Basically selecting what we want to see and getting rid of the rest.
Select CROP and mark out the area you want to keep.
When you are happy click crop.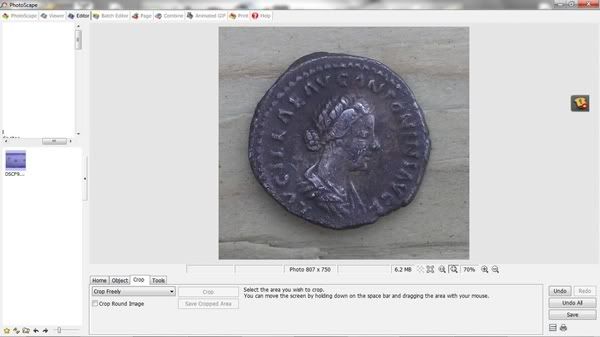 Looking good
We can now edit it to make it look even better.
Other cameras may take a better picture so editing wont improve much but it can help.
First I click Auto Level.
You can see a difference and this time it looks better. If you decide that it looks worse then just click the undo button.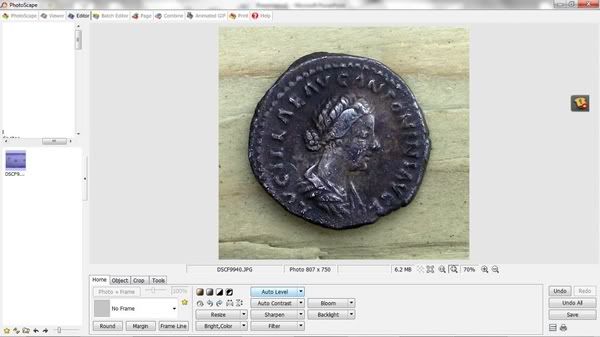 Next I click Back Light.
Not such a big difference here but I find on hammered coins it can bring out some nice detail.
Again if you think it looks worse then click undo.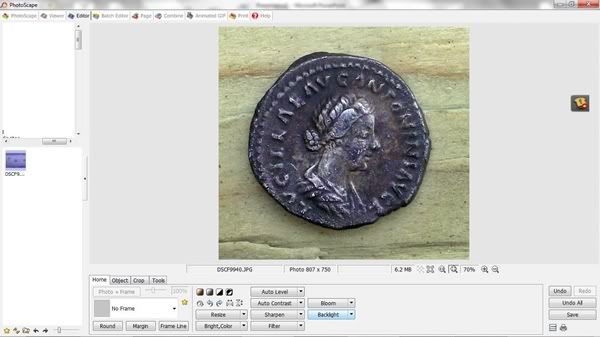 Nearly there.
Next step is to reduce the image size to post it on the forum at maximum allowed.
Click re size and select longest length 600.
Finished picture =
If I missed anything or made a mistake please let me know and I will edit my post.
Hope that helps
Fishy