Spent an enjoyable warm sunny afternoon on a seeded winter serial field of 30+ acres probably the last visit as the crop is getting quite high, nice lot of finds as you can see in photo 1. lovely Groat, tried to identify it myself with the aid of my Spinks book, however did not see it
small hammered will be a challenge to identify it is 15mm in diameter, I'll have a stab at a Charles 11 twopence

, shame about the thimble. What looks like a button with a pattern don't get many like that. The last photo is made of lead and looks like a spoon. My question is were spoons made of lead at any time in history. all found with the Deus fast slightly modified programme by reducing discrim to 1, sensitivity 90, TX power 2, full tones, reactivity 3, silencer -1, with the 11 inch coil, would welcome ID's and your thoughts please.
1
2 In cleaned Groat
3
4
5
6
7
8 Some kind of seal
9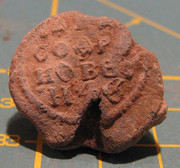 10 Button?
11
12 Flattened fragmented silver thimble
13 Lead but what, spoon perhaps?