....But not before a bit of early Saxon yellow!
Bloody marvellous! I just started to get a few bites resulting in a few early bits before the heavy showers stopped play.
The Constantine II bronze was first up followed by the early Saxon brooch fragment. A Roman bronze ring bezel was then eclipsed by the Saxon gold filigree ring.
click to enlarge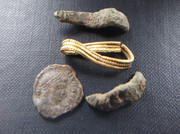 A