Posts: 12432
Joined: Sun Aug 07, 2011 8:31 am
Location: Denmark - island of Fyn (Funen)
Has thanked: 246 times
Been thanked: 285 times
Simon is back..
-
http://silversimon.moonfruit.com/home/4576598947
" onclick="window.open(this.href);return false;
---
pastmember.
What a great list ! I would appreciate any help in locating old catalogues of Chris Rudd on line going back several years if possible,thanks in advance guys
---
---
Posts: 3381
Joined: Wed May 26, 2010 5:35 pm
Location: Derby
Been thanked: 1 time
Wow what a great post I can't believe I have not come across this before

Paul
DEUS
I may be slow but can still get to my knees for the glint of

gold
---
Moderator
Posts: 11062
Joined: Sun Jun 13, 2010 8:52 pm
Location: Kent
Has thanked: 272 times
Been thanked: 207 times
Minelab CTX3030 : 17", 11", 6" Coils
Minelab Equinox 800 : 15", 11" Coils
XP Deus V3.2 - WS5 : 9" Coil
Garrett Pro Pointer AT
Garmin eTrex 20 GPS
---
Posts: 17
Joined: Sun Dec 06, 2015 7:23 pm
I'm new to all this and found the list very helpful.
Just been mucking about with wheres the path its brilliant having the old map and the modern map side by side and moving in unison.
just checking out the fields just across the road and on the old 25k map i found 3 springs marked on that map and most interesting about 2 fields away marked on the old map and not on the modern one in middle of the field is a little cross and says site of old Roman villa.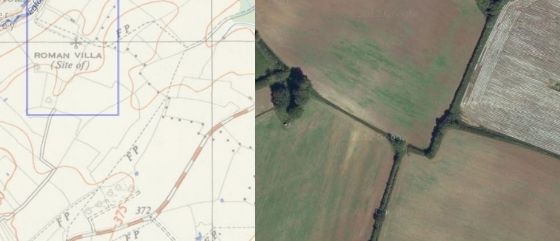 That was a big surprise.
I will have to ask the farmer for permission, but im not holding my breath he seems a right miserable B always putting barb wire on top the gates to ttop people walking their dogs along the top of the fields.
I imagine he's been asked loads of times before.
---
Posts: 66
Joined: Thu Feb 01, 2018 8:54 am
Location: Salop - Not by the sea
Has thanked: 27 times
Been thanked: 27 times
I have PM'd Tim to include this in the list, but thought I'd just post the link to highlight it.
https://footpathmaps.com/
It's a free fully zoomable OS map of the UK, which highlights footpaths when you zoo in. You can also overlay .gpx files.
I wasn't aware that we could get free full access to online OS map?
ATB
Paul
No gear and no idea...

An analogue man in a digital world
---
Posts: 295
Joined: Thu Mar 29, 2012 5:19 pm
Location: Sunderland
Has thanked: 1 time
Been thanked: 8 times
Updated again

Tim
Minelab ETrac
Garrett Pro Pointer
Shovel
Gloves

Sweeping Until Were Beeping

We are just one beep away !)


]
---