Forum member of the month for August 2012 is Identification extraordinaire
Jayreef!

"Personally I like elmtree's hoard, this is because we have a really good idea of who put it there..."
What makes detecting an enjoyable hobby for you?
I enjoy being outdoors, Cumbria is a beautiful part of the world, and one of my favourite permissions is in an area surrounded by hills and streams. No one for miles, just nature, hills, rivers, and stoked in history, elusive history, but interesting history.
After living in an area for years, I never paid any attention to the simplest things around me until I started detecting, now I know that certain areas around me have names that go back to Viking times, and in fact found out a while ago that the old "cumbrian dialect" which is a dying dialect, if you can speak it, can be understood in norse speaking countries, how cool is that.
I also see things know that I have "looked at" for years, I drove past a roman fort for years, it was a selection of walls in field, now it's a roman fort, and I know a lot about it.
Mainly though, not that I have an obsessive personality or anything, lol, but I know a shed load of stuff, that bores most people senseless, but for folks that have an interest they would be interested to listen, what else matters ?
What got you interested in the hobby and when?
Not sure really, always felt drawn to it, and then one day I had the opportunity (Christmas) to buy a detector, so I did (thanks honey), and was addicted in minutes after I found something I did not know what it was. (this was a unique experience in itself), found I enjoyed the research, and the rest was history. (so to speak)
What is your current detector? Any mods that bring in extra finds?

I started off with a Garrett 250, and that got me hooked with, how to say, very interesting finds, upgraded to a Whites DFX running "hammered and pastured" settings, and to be honest, finds have dwindled, but I know its not the machine, its Cumbria, it's a hard place to detect, its all pasture, with lots of years of detecting.
Cumbria Is one of those places, if it all got deep ploughed would see a mass migration of detectorists moving to it. With the rocky ground though, that's not happening any time soon.
Cumbria – the finds are down there, but deeper than most machines will go.
I think blisstool should lend me a V3 for a few weeks, I have a great piece of land, been on it loads for 2 years now, all the roman stuff comes up from the one area that was ploughed a few years ago, the huge area around that not ploughed has very little / nil coming from it from that time period, its all still down there.
I can prove the romans lived there, the fort is a big give away so the test is simple really, if the finds start coming up, the detector works as good as they say. There is no need to bury stuff then go back and find it, just test on an area like I have.
What accessories do you use?
My mates garrett pointer (would buy one myself with the cash), great bit of kit.
How do you manage to get permission, any tips that work for you?
That's the easiest question so far, and I must admit I am always surprised with the debate over this subject.
You drive to a farm, knock on the farmers door, and ask him nicely and genuinely, if you get a NO, be polite, say thanks, and move on.
Most NO's are for a reason, "already have some lads", "don't like detectorists", "don't want people on my land"
Personally though, I find that a good conversation, with knowledge about what effects their lives ( a genuine interest ) often helps.
I am one of these people that hates to get a NO. I almost take it personally.
But I have a story for all those guys that send letters.
Went to farm once, actually has a roman fort on his land (yes its scheduled), knocked on his door, had a chat with him, and got permission for the areas not scheduled.
Turns out folk have been writing to him for years about related issues, and he has never replied, his comment "too busy to write letters", and in fairness, he is!

"No-one for miles, just nature, hills, rivers and stoked in history...elusive history"
Any other hobbies or interests?
Apologies if this gets controversial, Yeah, recently got into shooting, and refurbing air rifles., since my finds are very rare detecting, and detecting is wearing thin at the moment with satisfaction for myself and not ID'ing finds for others I am taking a break.
Turns out I love French polishing, and engineering with metal, and since being a qualified bike mechanic (previous life), it quite suits me.
Since I was young I was an excellent shot, (cadets / army ), and since getting back into it, have had the best groupings of my life (3 out 3 in the same hole)
I now spend my time helping farmers with "pest" issues, especially rats
Pretty sure I could detect their land also if I wished, so that's another good in

What is your best find so far?
That's a tough question, never found a hammered, must admit though I don't really like them (may I burn in hell ), best find would be (identified a medieval arrow head, best find not identified would be………… a aluminium rock that no one can identify, or the Viking boat site lol, see below )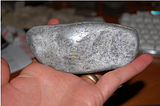 Oldest ever find?

Probably the roman steelyard weight
Best eyes only find?
That would be a roman whetstone found whilst digging a signal on my fort land, still got sharping marks on it
What is your most memorable day out detecting?
This story will make you either laugh, cry, or smile. The "burial boat story", a story from when I was starting off.
One night my misses was google earthing my permission area, and the then says from the chair "I think I have found a Viking boat site!", after I had finished laughing and taking the mickey as you do, she then showed me the map view and explained that Viking boats, from her research, were often found where 2 rivers met as the Vikings would settle there, and often had the same orientation which would be a north easterly direction and would be found in the north easterly area to a settlement.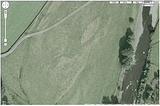 I decided that what she was saying made sense as further research showed an old Viking settlement up stream of one of the rivers, and it made sense that folk could have settled there, and was well worth a days detecting.
When I got there I started to very slowly detect around the mound, which was just about viewable on the ground.
Straight away with discrim turned off I started getting iron signals around the perimeter and these turned out to be nails, very old clinch nails. So as I was very carefully digging or marking these, the misses was at home researching clinch nails, and this would fit also with it being a boat.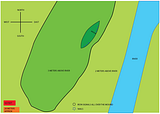 So I packed up, all gps marked, with nails and headed home thinking the usual as you do, "if I tell anyone I would have to kill them "
I tried to contact the fLO, but got no response, so went to the BM direct, then the FLO contacted me straight back, after a short while I got a response along the lines of
"we have consulted an expert and the mound is too small to be a Viking boat site, thanks, The BM."
I decided to go back onto google maps and check my measurements a short while later, and wanted another look around the area, but unfortunately google had decided to change the maps of that area and the imaging of the boat shape was gone, never to be seen again except for the screen shot I had kept
So it turned into a ghost ship after all, there one day, gone the next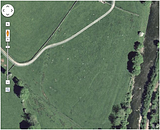 Probably the best day out ever, great story too, and when driving past I always glance over with a smile.
So we have pics of the nails, and a comparison pic that I found during the research of boat nails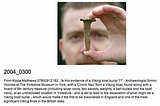 What is your favourite period in history?
Roman all the way, and how can anyone say different, they used to create coins and busts that were amazing, and after the second century, no one could come close to their skill for around "one thousand and five hundred years", get your head around that for a moment.
Any good detecting stories?
Went on a rally recently, and was walking a line up the field, decided to start detecting at the top and walk back, turned my detector off. My mate tony, who runs the same detector and same programme was walking the same line and found a lizzie hammered roughly where I turned my detector off.
Goes to show really, some folk are lucky, some are not
How can we get on better with the archaeologists?
Seriously?, take up a new hobby!. Or at the least, if you do find something that's a real show stopper, call in the big guns, and let them preserve the archaeology that surrounds the finds. Context and all that.
"One day I had the opportunity to buy a detector, so I did... and was addicted in minutes"
Any tips on posting pics of coins?
As far as I am concerned, from the ID point of view, take the best close up pics you can, get a photobucket account, and learn how to copy the correct piece of code to embed the pics. Learn how to crop and image to maximise the point of interest in the image, and find a good way to scale an image to around 500 pixels. There are loads of apps and sites that will do this for you. The best example I have seen are the hoard pics from Elmtree., clear, focused, labelled and marked.
How can you be so quick when doing an id?

Practice and online resources, I tend to ID roman coins a lot, so you get used to reading the inscriptions. I use wild winds search engine a lot, as long as you can read some inscription you can normally score hits pretty quickly. After that it's a case of trolling through looking for a visual or script match.Then you check and double check, I have lost count the amount of times that the inscription is just slightly out,many someone has pointed it out.On the first and second century busts you can also normally visually ID the bust, as the craftsmanship was very accurate. You get used to who is who I suppose, or you get into the ball park.

What reference books or reference sources do you use, or is that a "trade secret"?
Lol, I own a copy of spinks, and a copy of north's book, hammered coins 600-1272, dont own any roman books, but have the free download of ERIC version 1. I bought north's book because I like the early hammered coins from Saxon times, after a quick start on that I usually start going to the EMC search engine for early hammered coins. As for Celtic, I normally start with spinks, and then move onto the search engine at celticcoins.ca. All this info is on my site by way, coinlinks.co.uk

"When driving past I always glance over with a smile"

We have had problems with members submitting poor information and/or pics of coins for ID. What do you think are the essential bits of info that might help an easier ID?
Like I said earlier, as close as you can, both sides, crop out the rubbish and post the rest, 500 pixels wide please
Any tips for members on how to start doing their own ID's?

Read my site, that's why I created it, then try ID'ing coins without scrolling to the answers, and see what happens. Don't be afraid to be wrong, it's part of the job, especially when dealing with coins almost two thousand years old.
Do you have numismatic colleagues outside of the detecting world?
No, everyone falls asleep as soon as I start talking about coins. Everyone else "that is" interested has come about through the detecting world. In one way or another.
What is your own personal favourite coin, one that you would love to own?

Christ there's a question, I own my favourite coin, an Antoninus Pius coin. In fact I drilled a hole in it, and wear it. ( am I going to hell for that?). One day when I get some cash I might buy a Faustina, then I have the husband and wife set. I would also like a sceat, some of those are really nice. Series X or series M. As for Celtic it would have to be a Canterbury Dragon VA1644, really cool and somewhat rare, never seen one on a forum yet.

"You drive to a farm, knock on the farmer's door, and ask him nicely and genuinely, if you get a NO, be polite, say thanks, and move on
"
Where do coin fakes come from? Easy to spot? How?

There are two types of fake. Coins in my opinion, the chancer type and the professional type.The chancer type is a cast copy from the original, this is spot able by the rounded edges to all the features, a struck coin has sharp edges to its letters and features, you can often see casting flaws in them also.The pro type tend to come out of Europe, and are very good indeed, and have often fooled the experts, so to speak. The forum is an excellent place to read up on these fakes.The pro type are a big business, and the product reflects this, same size, same silver content, same cracked flans, and struck from dies. Not surprisingly people collect these in their own right.Rule of thumb, before you invest, do as much research as possible, know your stuff.

Was it your love for metal detecting that got you into coins or vice versa?

I started detecting three years ago, and before that did not know a button from a coin . In fact one of my first finds was the front of a Victorian button, when I got home excited I was convinced by the pattern it was a Celtic coin, after I realised my mistake I started to watch coins being ID'd and asked a few guys for some pointers, after that my obsessive personality took over.
Which coin hoard found in the last few years do you feel has been the most historically significant and why?

There all great, but personally I like elmtree's hoard, this is because we have a really good idea who put it there. That for me adds a new dimension and a glimpse into the way life was lived for these guys that created the stuff we dream of finding.One of the coins, had it been circulated would have mean he would have been killed due to his error in making it, that's a whole new angle for your average day at work isn't it. Lol

Are you lucky enough to have any scenic views whilst out detecting?

Yep
Finally, any detecting tips to pass on?
Learn your machine, know what iron sounds like, then experiment a lot with different signals, and after a few months you should be able to know what is what. When you can recognise one of those little tubes that is used in farming just by the signal your doing ok.
Most modern machines are great, but you have to get to know it.
There are some great folk out there, and I have made some great friends through the hobby, and most I have never met. They have taught me a lot about history, and we have amused ourselves for hours upon hours looking up finds for people. If I had not got into detecting and researching I would not have met people like Yeti (mick) and whole bunch of other folk from various forums including this one, too numerous to name.
It's a very interesting hobby, keep at it, its not about the wealth you "could" find, its about the wealth of knowledge you learn.
Dig iron!, everyone finds the "steelyard weight", but never the "steelyard", if you know what I mean