Forum member of the month for April 2013 is
deanothehunter!
Hope you enjoy reading the interview guys!
Click to enlarge the photos
Laura
"After so long our eyes just seem to be tuned for such things which others would walk right over"
What machine did you start out, what have you ended up with and why?
I started with an old 80's c-scope bent crook handle type I saw in a skip some 12 yrs ago. I couldn't resist taking it.... the speaker wire was broken off so I soldered a new one on and it worked fine and after finding my first half crown with it i was over the moon and hooked. after coming back to it in 2010 after a long break I had an ace 250 but tired of its erratic whinging and going berserk on every session, so I then bought a minelab x-terra 705 which I heard was pretty good and since owning it I have had many nice finds and lots more of the most sort after goodies such as hammered.
What accessories do you use?
I use just a whites bullseye pin pointer and a joan allen mini shovel, and some old headphones I found in the loft. But that's me all over, I very rarely buy new accessories just use what comes to hand cheap or for free.
How do you manage to get permission, any tips that work for you?
I was lucky as most of my permissions came from landowners i already knew and had for shooting hunting and pest control purposes, but I have got the others from knocking on doors, letters and last one from an e-mail.
How do you organise yourself for a day's detecting?
I organise myself and my rucksack the night before as I have to go by bike and luckily all my sites are within riding distance from home, but i am very thorough checking everything I need to take down to the last mars bar in the fridge.
Do you detect alone or with a buddy?

I detect alone and pretty much always have, I did have a friend come once or twice but I much prefer to be by myself and find permissions came easier too because of this.
"Now I much prefer to see the animals and birds free in the wild the way they should be"
I believe you have some other hobbies, including shooting and model aircraft, can you tell us a bit about them?

I have to many other hobbies really so always flitting from one to another then back again when one bores me. I am very into wildlife watching, even though I used to be a very passionate hunter and pest controller, but one day something came over me and I got rid of all my guns and now much prefer to see the animals and birds free in the wild the way they should be. I even have a pet house rabbit who is nearly 4 yrs old now but i love him to bits. Then there is model flying which i never really mastered but do have still a couple of small helicopters which are quite easy to fly but its taken me long enough to learn, and i had a few planes which are easier than the heli's but have crashed more than I've flown them. The only one i have now is a small spitfire which i also crashed but its repaired and airworthy again now.
Then i also like mountain bike riding through country trails etc but often go for long rides just to keep me fit.
What are your favourite guns?
My favourite guns were just air rifles and i had a few over the years but spent thousands on them over the years but i wasn't one for target shooting mostly rabbits, squirrels and pigeons all of which i used for food for me and the dog and yes grey squirrel is very nice like chicken and eaten all over the world in restuarants etc but they never really caught on over here. But as i said i had a guilty feeling come over me one day and stopped almost instantly and now enjoy watching them in the wild as their lives are hard enough without us humans constantly on their case too. It's hard to explain how someone who used to shoot them for the pot could suddenly stop but i did and very happy i did, i do not think i could ever go back to it either.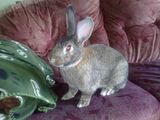 What is your best find so far?
My best finds are just several hammered coins, but my absolute favourites are crotal bells which i been lucky with finding 6 in the last 2 years all from same land but had none in all my detecting years till now ....weird ?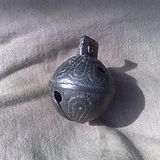 Oldest ever find?
My oldest finds are nothing special, but i like them - a trajan sestertius and a constantine 1 nummus coin.
Best eyes only find?
A very nice george 111 cartwheel penny which i found on a country lane in very heavy rain which i believe was washed out of the steep mud banks either side of the road, but after so long our eyes just seem to be tuned for such things which others would walk right over without noticing it, i have also had 2 other cartwheel pennies from detecting too.
"...checking everything I need to take down to the last mars bar in the fridge!"
What would be your "dream" find for the future?
A hoard of ancient silver or gold coins, a nice stater or gold guinea would be nice too.
How do you manage to organise your finds?
They are all in those small plastic tubs with the little individual compartments and every coin is ID'd and labelled and placed in a small plastic coin wallet and placed in the correct compartment for example victorian, georgian, roman etc etc
Which coin/artefact posted on the forum would you say is your favourite?
Has to be the gold staters that crop up from time to time i think these are great coins and would much love to find one myself.
How much does luck play a part in detecting?
I think luck plays a part at times but once you find a site that starts producing the hammereds other goodies soon start coming too in my view, but patience and research does help. I have a site which has had all kinds of goodies hammereds, crotal bells, roman and military stuff but there is no real known history on the land other than it was a temporary army and RAF base at one time but there is a roman road just feet away from one part of the site so that explains the roman coins i guess.
Does detecting keep you fit or do you take other exercise?
All the walking definitely keeps you fit but then so does riding a bike to each site loaded with all gear, its quite hard going at times but always worth it, but i have no choice its my only mode of transport at the moment.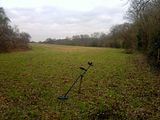 "Being generous at christmas time with a card and a gift is always a must-do gesture"
Many of us take a break from detecting, has this happened to you and why?
It happened to me in the past as i was in a very busy job and on call and working 7 days a week so had no time for anything else, and in the end i sold up all my gear and regretted it as just a year or 2 after had to start searching permissions again and buy more detectors etc. But I came back into it with a garrett ace 250 which was ok at first but soon got sick of its constant whinging and going bonkers on almost every outing, so I got some money together for a minelab x-terra 705 which has found me more hammereds, crotals, the odd roman and many other artefacts all from one main site i had from the beginning 12 yrs ago, which i been over with no less than 7 or 8 other detectors and its still producing to this day. I have had my fair share of bad luck too over the years with redundancy 3 times and illness such as depression which has hit me hard at times but always bounced back and seen light at the end of the tunnel again. I now just work part time as a glazier/window fitter but hope to soon start my own small business from home. I have taken time out again recently after losing my Dad in October 2012 and Mum passed away in 2004 and these things take their toll on you and it takes a long time to be able to get back on with life, but its only just sunk in about Dad and i have slowly been getting back out there now and then but a long way to go yet. But just life in general these days seems to be too demanding and it's a wonder anyone of us finds time to get out there.
What is your most memorable day out detecting?
It was a late afternoon session about a year ago where i found a lovely crotal bell with sunburst pattern on, then 2 henry 111 hammies, a edward 1 hammered, a very nice silver victorian shilling, a silver letter opener and part of a silver cased pocket watch. It was a very productive day that ended in a very nice red sunset in the distance, i never have many of these days.
What is your favourite period in history?
I don't really have a favourite period as such but very interested in all history from first man through to present, and find all programmes on tv associated with history very interesting and pretty much always a must see, even if it clashes with my partner Zoe's favourite soaps lol
Do you ever wonder at the history and background of your finds when they appear?
I always think about how they got there who lost them sometimes daydreaming about a whole story my mind makes up then reality kicks back in and i carry on or as very often happens one of the local horses nudges me springing me back into life with sometimes a racing heart beat, as they have a knack of being as far on the opposite side of the field from you as possible then you dig a quick signal and less than 30 seconds later they are all surrounding me and i heard nothing until i look round or get nudged, this once happened on the same field in the dead of night they were all way in the distance and i was shooting with a lamp, was lined up on a rabbit when a firm hard push on my shoulder and a wet snort down my neck nearly sent me into another world, my heart was pounding for hours after that and i never got to touch the trigger.
Do you attend rallies? If so, which one has been your favourite?
Never actually been to a rally, have always wanted to but just never got round to going to one plus no transport doesn't help matters.
How can we get on better with the archaeologists?

They seem to of had bad things to say about our hobby in the past but things seem to be changing and they are more and more becoming fans of us and our finds and surprised what we can turn up. I have heard reports that we have been working alongside them lately with very good results, and they are seeing firsthand what us genuine law abiding people are all about.
Are you lucky enough to have any scenic views whilst out detecting?
Not really, usually just fences and railway lines, but do get to see some lovely sunsets, which really finishes the day on a good note even when finds have been nothing more than the dreaded shotgun cartridge bottoms.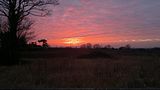 How does this forum help detectorists like yourself?
This forum has helped me no end in all ways, and it is a very friendly place where i have learnt so much as have we all as it's a learning process that never ends and the people's knowledge on here is mind blowing at times when we all struggle with an ID .

Finally, any detecting tips to pass on?
Get to know your machine, and keep trying with permissions as i had pretty much lost all mine whilst i took a long break, but since coming back in 2010 i have found a good few more once again after much patience and different approaches etc. And always be as thorough as possible when digging and re-filling holes and never take the land owners for granted, always keep in touch with them showing your finds regular and on each session if possible and being generous at christmas time with a card and a gift which is always a must do gesture it goes a long way and can open up other doors, and always fully know your boundaries as it's easy to stray into a no go area.
"I think luck plays a part at times...but patience and research does help"
Deanothehunter